WELCOME TO THE WEBSITE
FOR THE VINTAGE 280 cu. in CLASS HYDROPLANE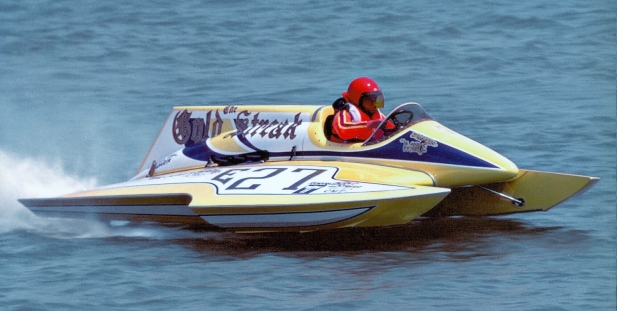 Dayton Nationals 1980
Photo by Phil Kunz
---
<!========================== UPDATE ===============================> Last Update: Nov 21, 2013

New Hull Photos
Construction Log Update <!======================= END UPDATE =============================>
---
On October 17, 2009, I became the third owner of this 280 class, Ron Jones, Sr. hydroplane. The hull was brought from Anaheim, CA. to Sammamish, WA. on November 28, 2009 by me, Gordy Gillmer, Dave Compton and Andrew Compton. The first order of business will be to remove the deck and inspect all structural members. Once the inspection and any subsequent needed repairs are complete, the boat will be rolled over and the repair work that is needed on the bottom will be done. THEN...back on her feet to be re-plumbed, re-wired and re-decked.

Keep checking back as I get the website refined and more information gets posted.

Steve Compton

---
Nov 21, 2013

Just before we took the hull down to Jeff Schnieders Maaco Kent, WA shop, Gordy, Travis and Stephanie Gillmer came over and we glassed the flanges on the cowlings. Once we got the base shape done, it was time for paint. Phil Lampman (aka, well too many aka's to list here) came over and helped by putting his "Jedi Sander" skills to work. By the 4th of July, the entire hull was primed and wet sanded. We cleaned up the garage, got the hull onto the trailer and took it down to Kent.


<!tr valign="top">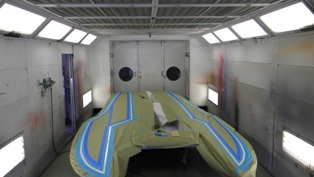 Masked, in the paint booth and ready for the blue stripe.

<!===================================================> The weekend of July 6-7, Kim Labrie let me borrow her husband for the weekend. Jimmy met me at Jeffs Saturday morning around 9am and off we went getting everything set to lay the paint. He even bought a brand new spray gun!!!! (I think he didn't want to take a chance of having Qatar maroon bleeding into my yellow as he had just finished working on the U-95).

After a long Saturday and full Sunday, the Gold Streak looked like days of old! (only with new paint!) Rolls and rolls of tape along with many feet of masking paper got the Streaker pretty much done in a couple of days. Yeah, it needs some touch up, the the main part is done!!!!

Jimmy Labrie doing what he does best! Making boats look good!!!

<!===================================================>

After we got the boat home, fitting of the engine, getting a new prop shaft from Kelly Stocklin, Getting rudder work done by Fred Wright and Oil pan mods done by Jeff Campbell, engine work was being accomplished, hardware was getting installed and more paint on the cowling is being applied. Still lots left to do, but list is definiely getting shorter. At the risk of losing credibility, I guarantee you'll see the Gold Streak in the water this summer...








---
<!tr valign="top">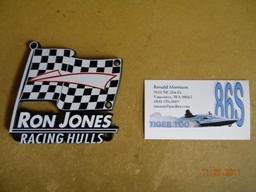 <!===================================================>



At the APBA Region 10 meeting last fall, one of our vintage buddies, Ron Morrison, announced that he had gone out and had an original Ron Jones Sr Racing Hull logo reproduced. Of course he had to buy a minimum number. and with the setup, he was wanting to sell some of his "surplus". Well, as you can imagine, this was an opportunity one cannot pass up! In talking to John Leach a while back, I mentioned the logo and he had not been able to get any. And since Ron Sr. didn't have any more, this was a great deal!